Important Release and Changes with Ghost Browser
As we've hinted at in the past couple weeks, there are a few major changes happening this week with Ghost Browser. Here's a brief rundown with details to follow.
We're renaming 'Groups' to 'Sessions'. A Session is set of tabs that share a cookie jar. Ghost Browser's special feature is that you can have multiple Sessions running in one window.
We're releasing Projects. It's an awesome new feature that allows you to save multiple Sessions into a Project. You can switch among Projects anytime to eliminate the mundane startup and transition steps it normally takes to get through your day. You can see it in action here.
We're removing the browser login. Too many people thought we were tracking their browsing behavior because of it. (Which we weren't, aren't and won't). That decision is detailed here.
We've decided to use a Freemium business model instead of solely trial with premium. The inspiration for that is decision is detailed here.
This is all happening this week – and actually probably in the next 24 hours.
We imagine the first questions you'll have are "what's in the free version?"  and "how much is the paid version"?
The free version will have everything the Premium version has but with limits on Projects and Sessions. This gives everyone a chance to understand each feature and use the browser for as long as they would like. For the power users that get the most value,  we'll ask for a small fee so we can keep working on making Ghost the most Productive browser in the world!
With pricing, our goal is widespread adoption so the price point will be VERY affordable, especially when considering the return on investment you get from Ghost Browser. It will cost less than most of the productivity tools that are in your current work suite – definitely less than the ones we are paying for 🙂
There are two factors that determine billing:
Your billing country: Because we believe people around the world should have access to great technology without prohibitive prices, we will offer special pricing for users whose billing address and primary country of usage is in a developing country.
When you signup for Premium: The best deals will be given to those who sign up first. The first 1,000 users to sign up for premium will receive special pricing below the normal rate (on top of any geo-based discounts).
Because of this, you'll need to log in to see exactly what your pricing will be at that time. Sorry for all the login haters, but this is required to be able to provide global access to Ghost Browser, which is important to us.
Other minor changes included in this release are:
"Continue where you left off" feature that would allow your browser to open tabs from your last session has now been superseded by Projects, so we've disabled that setting.
There is now a new 'Empty Projects' Button under the Ghost Menu. Use it to start a new Project, or after you have some tabs open you can just use the 'Save as a Project…' option
Getting Started with Projects
Once your browser updates, you'll be able to use Projects. To start a new Project, click the Ghost Button to the left of the navigation bar and select, "Start New (Empty) Project" as seen in the screenshot below. From now on your Sessions will stay logged in! If you'd like to watch a quick demo of how to use Projects, please click here to see our Getting Started with Ghost Browser video. If you prefer step-by-step instructions please click here to see our support article on Projects.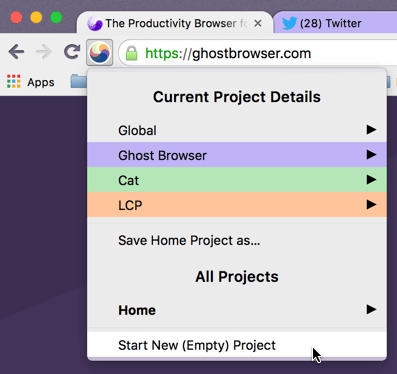 If you have any questions, comments or concerns, please contact us.