How to Use  Ghost Browser to Simplify Multiple Gmail Accounts
3-Minute Read
These days it's pretty common to have more than one email account. If you're like me, all of them, or at least most of them, are with Google. To save time, I also stay signed in to all of my accounts throughout the day so I can quickly pull open an account to send an email when I need to. However, more often than not, Google gets "confused" about which account I'm actually working in when using other Google products like Google Docs.
Annoying, isn't it?
For example, when I have my work email open and click on a link to a Google Doc that someone shared with me, I get there and find an error message that I don't have permission to edit this document. What! How is this madness possible?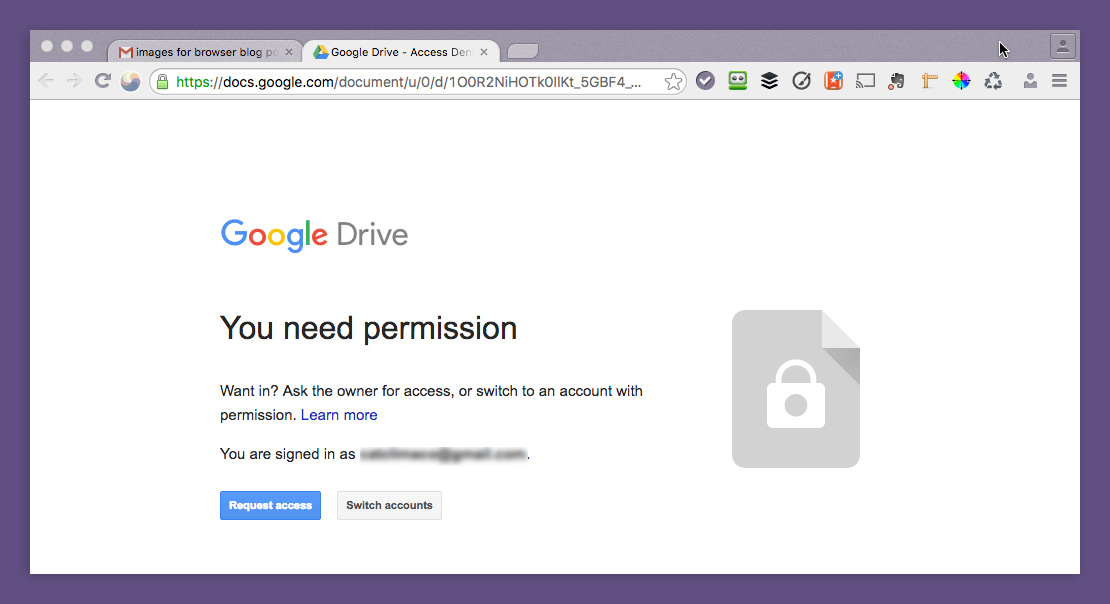 That's usually when I notice that Google, for some reason, tried to open the document in one of my other Google Docs accounts. For an account I didn't even have open.
Sometimes, it's as easy as switching accounts, but most of the time I have to sign out of all of my Google accounts and then sign back into just that one account to get it to work. It's such a time-consuming process!
Even if I don't get this message, and I'm able to open the document in the wrong account, it can lead to hard work being stored in the wrong place. This leads to huge amounts of unnecessary confusion when I know I saved those changes to the document. But it's difficult to be so sure if you don't know where your changes went.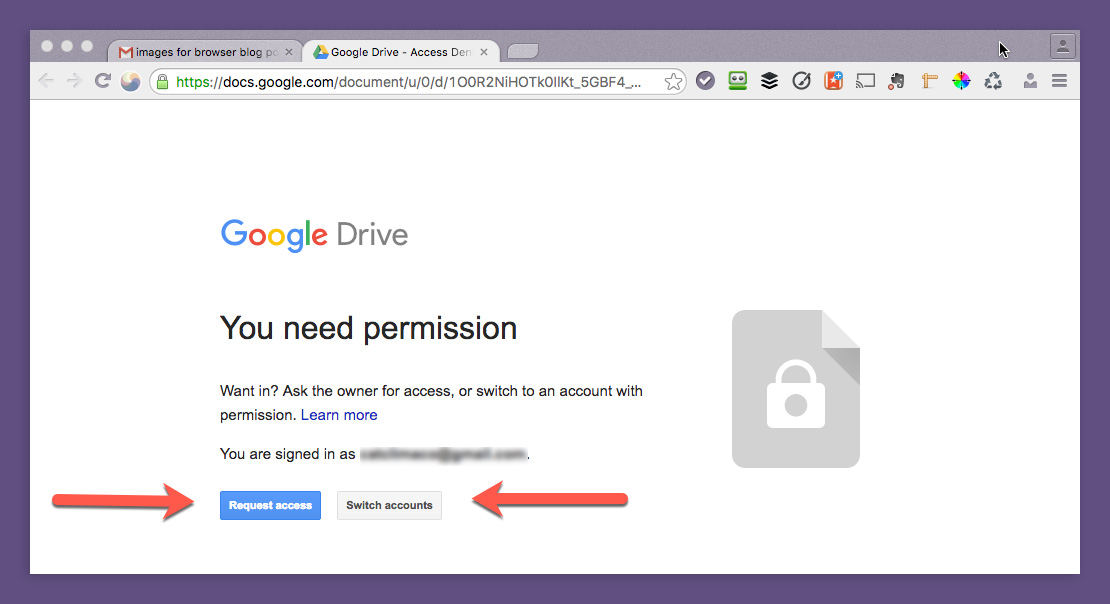 Even before I started working on Ghost Browser, I was interested in Productivity Tools, but now it's become an obsession. The truth is, we're not perfect here at Ghost Browser, but we're pretty serious about productivity and effective time management. When I'm spending most of my day in SaaS products, interruptions like this can be a big waste of time. So, we figured if Google wasn't bringing in the solution, we would.
Finally, a solution!
Do you also want to prevent this from happening to you again? I bet you do! This is my personal invitation to you to check out the short video below. I'll walk you through the steps of using Ghost Browser to manage multiple Gmail accounts in a way that keeps them isolated. There is also a text description and a link to sign up for the free Ghost Browser Beta after you have watched the video.
Step 1
Open a new Ghost Group. You can do this by right-clicking on a tab and selecting New Group from the menu. For Mac users, you can also go to File and select New Group. Then sign into your work email.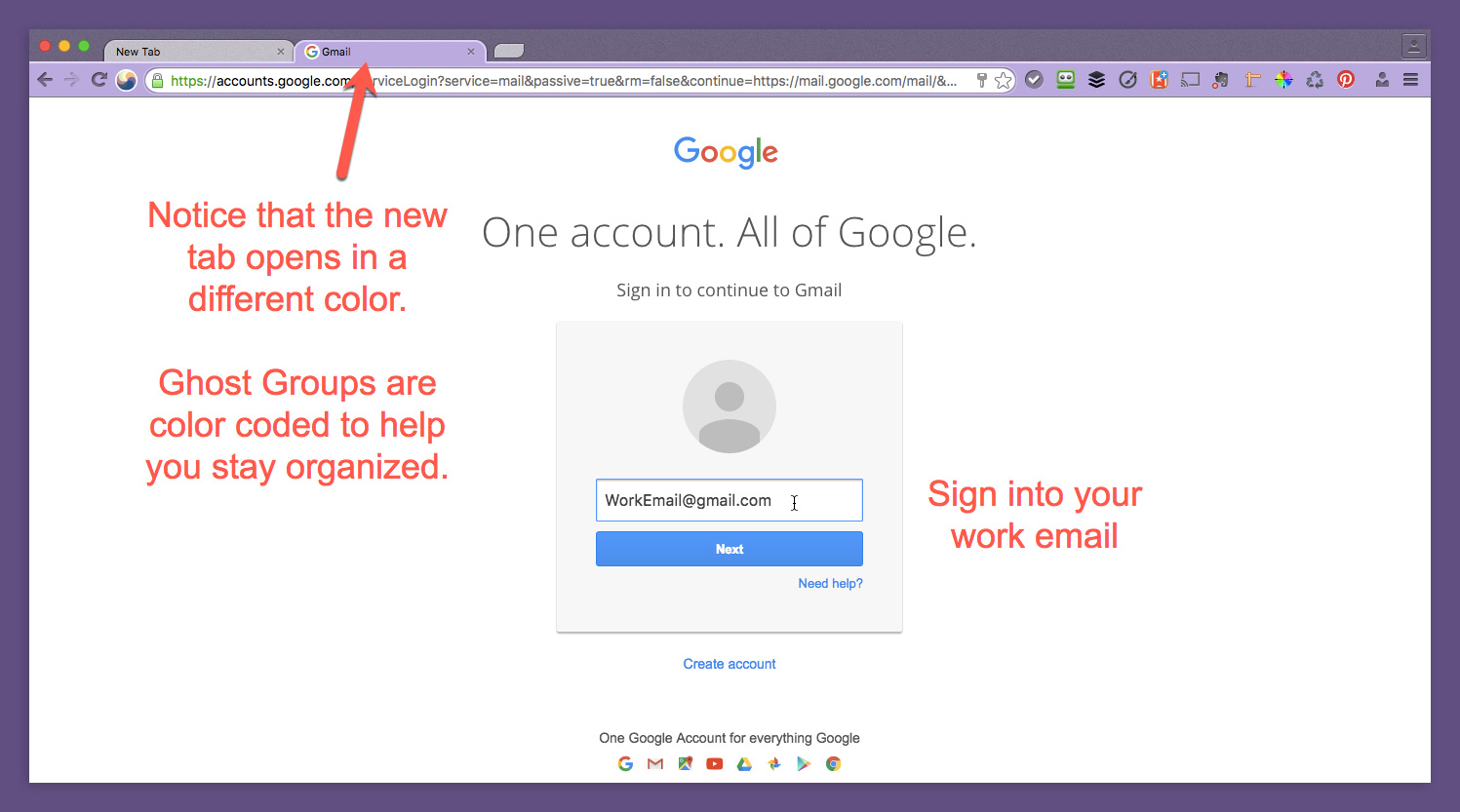 Step 2
Right click either tab, open a new group, then sign into your personal email in this one.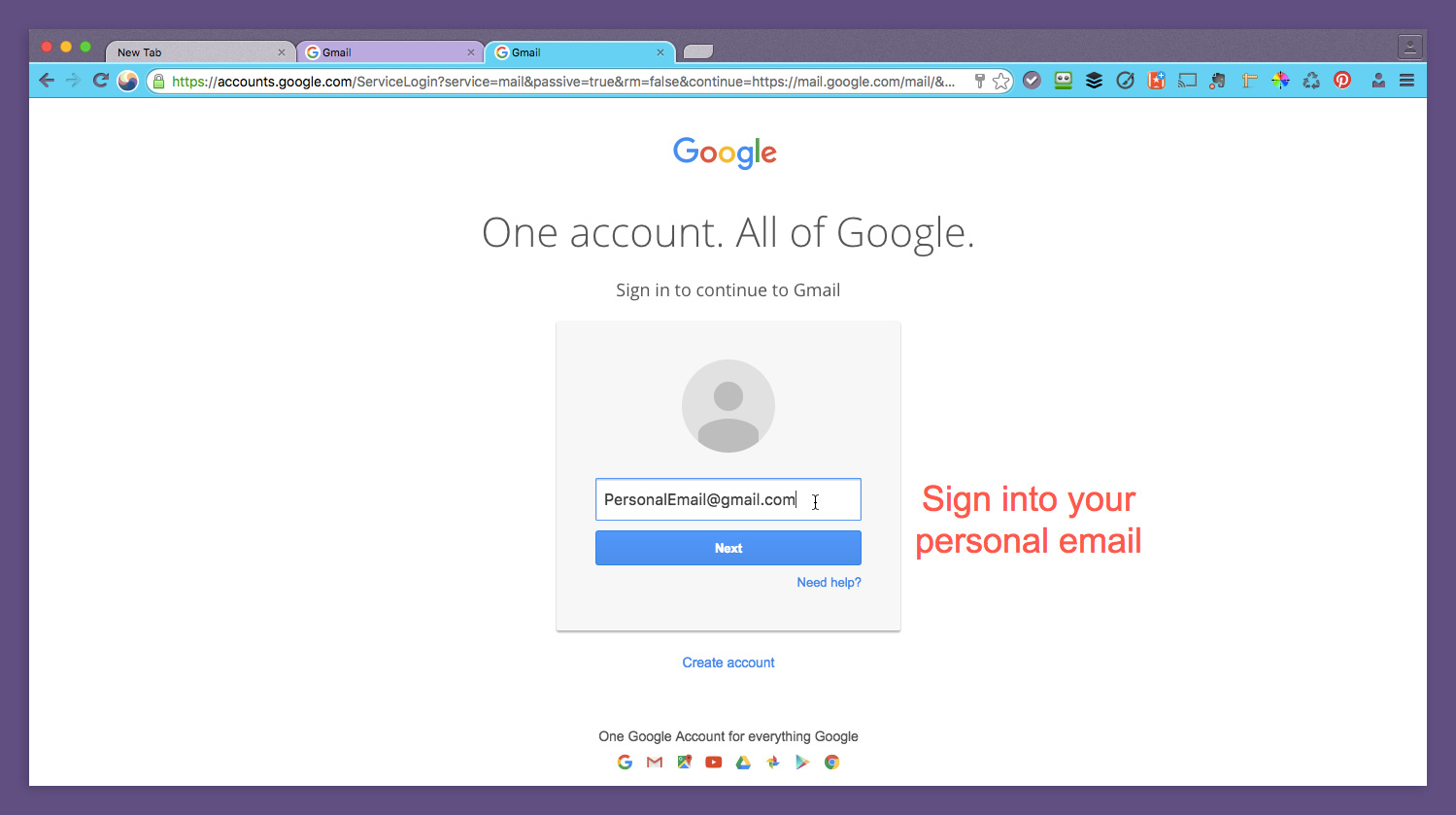 Step 3
Now, I'll go back to my work email and open a Google Doc shared with me by our Larry, my co-founder.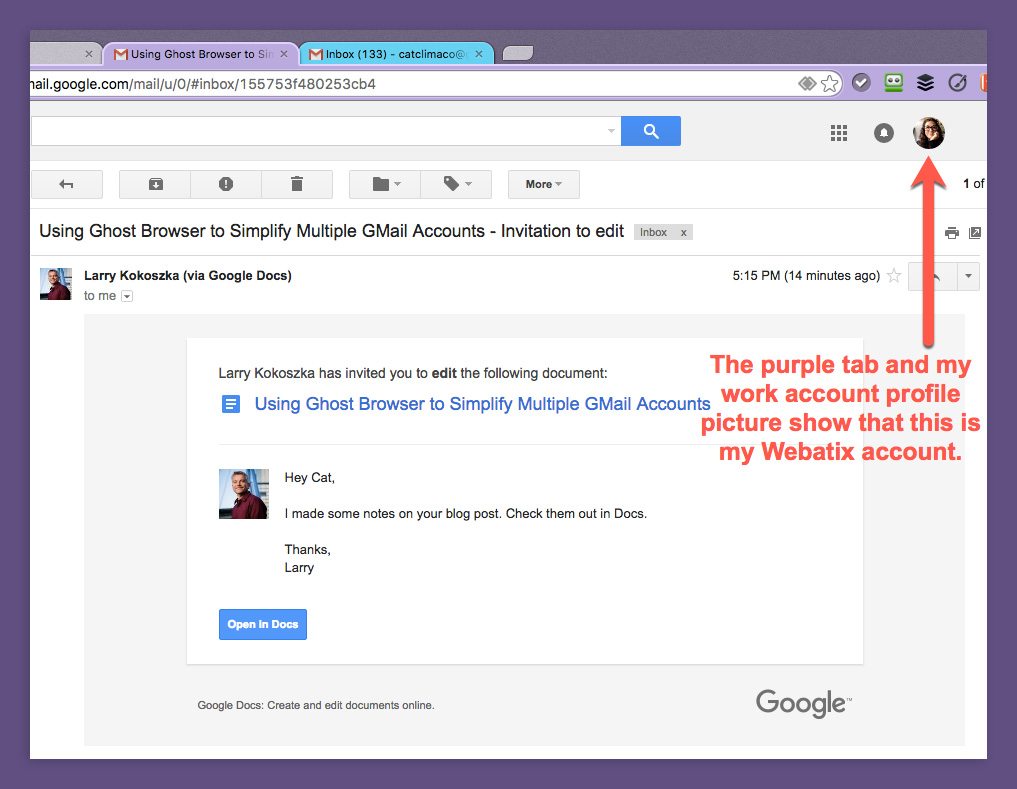 Step 4
This is where the magic happens. When I click the link to the document it actually opens in the correct Google Docs account.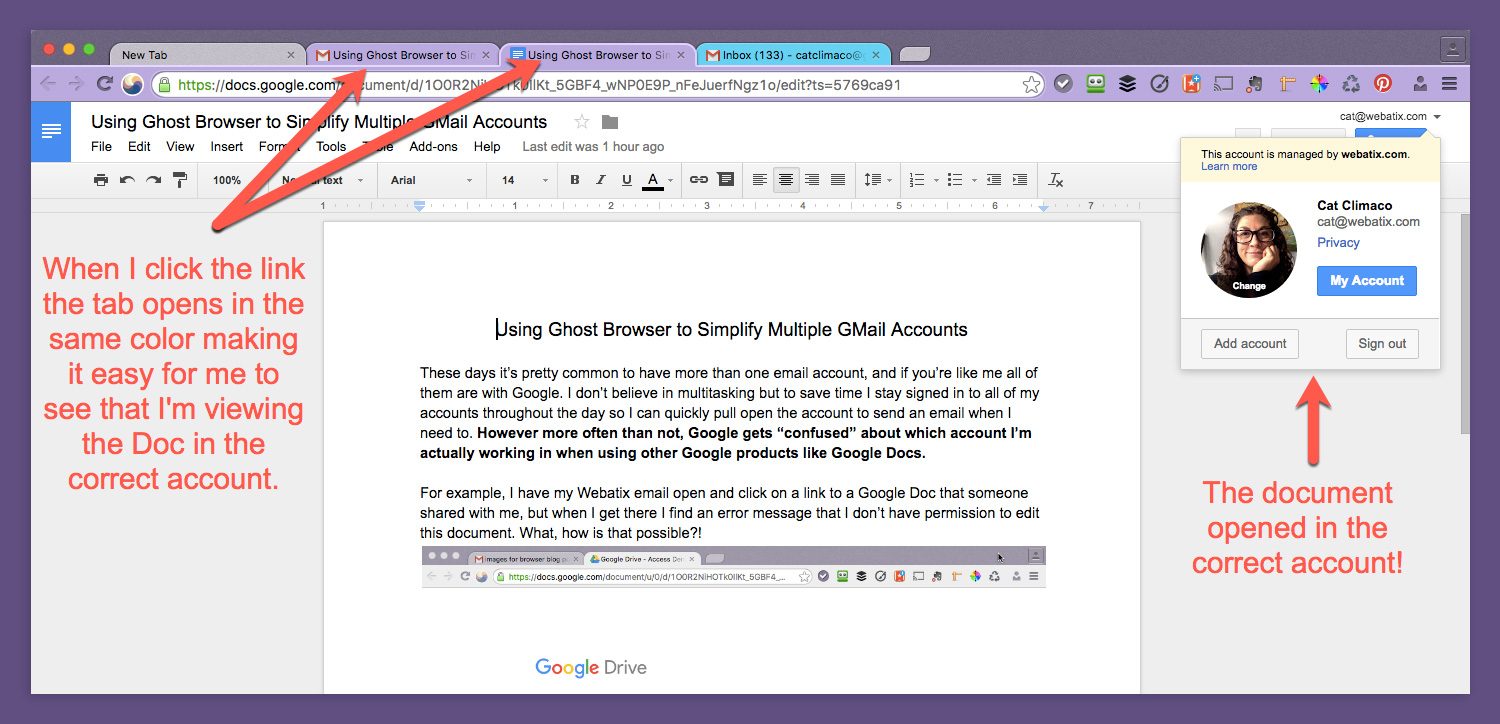 Did you find this article helpful? Tell us what you think in the comments and share it with a friend.
Thanks for reading! – Cat