Get Ghost Browser
The task-based browser that helps you fight tab bloat, increase focus and get things done!
Ghost is the only browser with built in multi-session browsing and a task manager so you can do deep work without all of the distractions!
Save tab lists into Tasks and easily switch among them to focus on the one thing you are doing right now.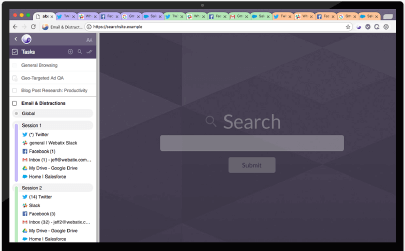 Easy Install
Import your Chrome settings & extensions in less than 2 minutes.
Compatible
Built for OSX and Windows, with Linux on the way. All of your Chrome extensions work with Ghost.
Secure
Built on the Chromium core, and backed by thousands of open-source developers around the world.
Productive
Use Projects to save repetitive tasks. Save tab groups and sessions, each sandboxed with separate cookie states. Switch between Projects instantly.
Private
Ghost is free of spyware and malware, and we never track your browsing.
A+ Support
Day or night, we're here when you need us.
We'll start you off with a one-month trial of Premium features so that you can experience the full power of Ghost Browser. We've also included our industry-first tool, Ghost Proxy Control, which allows you to assign a different proxy to each Tab or Session in Ghost.
After your first month you'll have the option to signup for Premium or continue using our free version.
Legacy 1.x Downloads
All users will be auto-updated to 2.0 in December 2017. If you are having an issue with 2.0 let us know so we can address them for you. If you need the old version, please uninstall Ghost Browser then re-install from the buttons below.
Windows Version 1.1.0.7
MacOS Version 1.1.0.7