Hello!
Thanks for stopping by to check out Ghost Browser. We're all about making peoples' lives easier, so we thought we'd make your life easier by providing you with verbiage and assets to help you spread the word about Ghost Browser. Please reach out to support@GhostBrowser.com with any questions, we'd love to hear from you.
Verbiage
Tag Line – Short
Ghost Browser: The Productivity Browser for Tech Pros
Tag Line – Long
Ghost Browser is The Productivity Browser for Tech Pros. An intuitive multi-session browsing experience that does a lot of work for you, so you can get away from your desk and do the other stuff in life!
About Ghost Browser
Ghost Browser is built on the Chromium platform so it's secure and easy to use. The power of Ghost Browser lies in Sessions, which are distinguished by color. Each Session is a separate cookie jar, isolated from the other Sessions. These isolated Sessions are what allow you to sign into the same website from multiple different accounts simultaneously.
Projects allow you to save groups of Sessions (with your logins stored!) so you can set up your daily workflows once, and then launch them with one-click when you're ready to get to work. Projects keep you focused and productive, and if you have to switch tasks quickly you won't lose your place because you can always pick up right where you left off.
Ghost Browser does not track your browsing behavior, and never will.
Who Would Benefit from Ghost Browser?
Web Developers
QA Testers
Social Media Managers
SEO Experts
Account Managers
Marketers
Sales Teams (product demos)
Travel Agents
Anyone wanting to wrangle more than one email account
People who love organization
Ghost Browser on Social Media
Logos
Please use only official Ghost Browser logos found below. Our logos have transparent backgrounds and are available in two different color schemes for light and dark backgrounds.
For light backgrounds please use the logos with purple text. For dark backgrounds please use the logos with white and gray text.
  Light Background Logos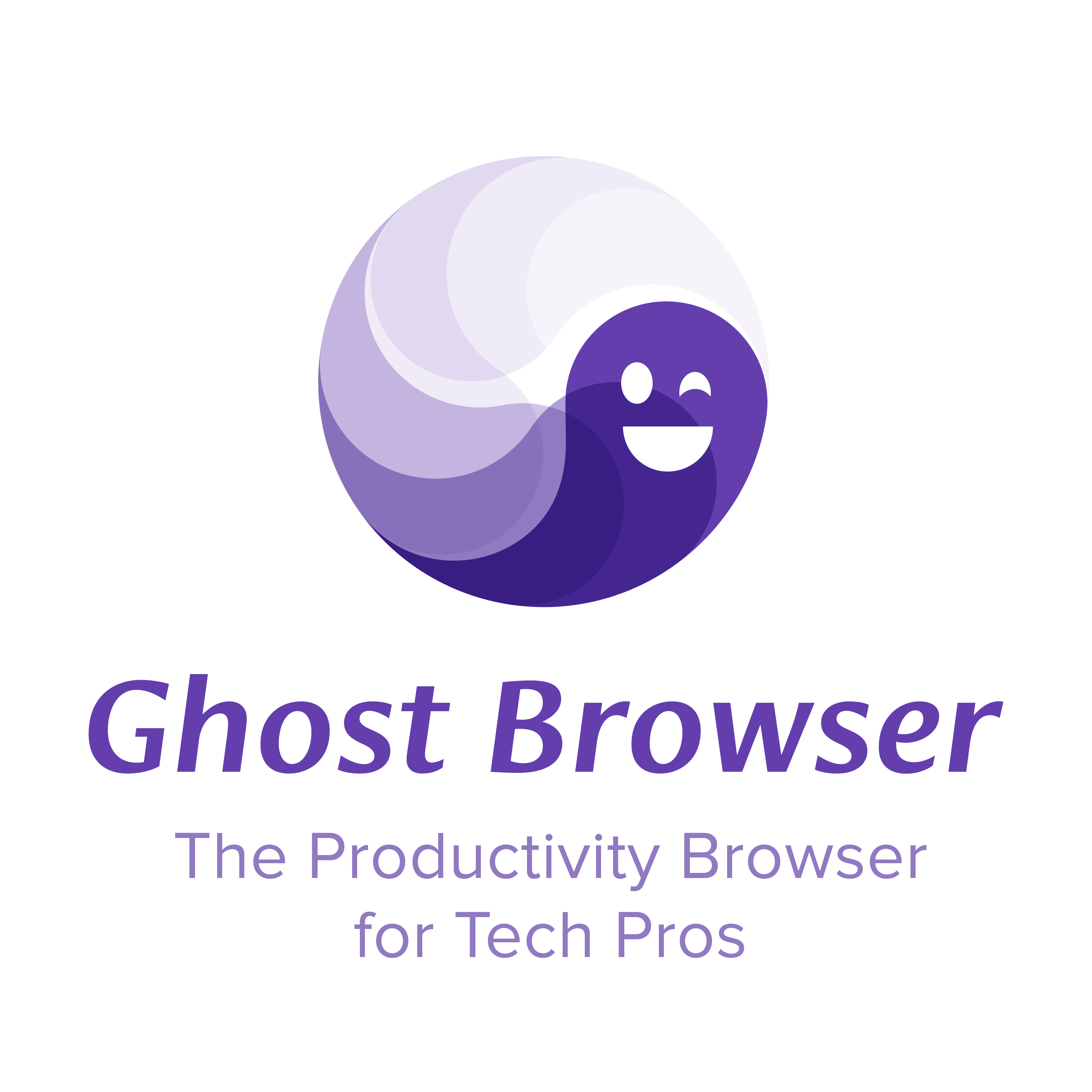 Dark Background Logos
("Ghost Browser" is in white so appears invisible on a white background)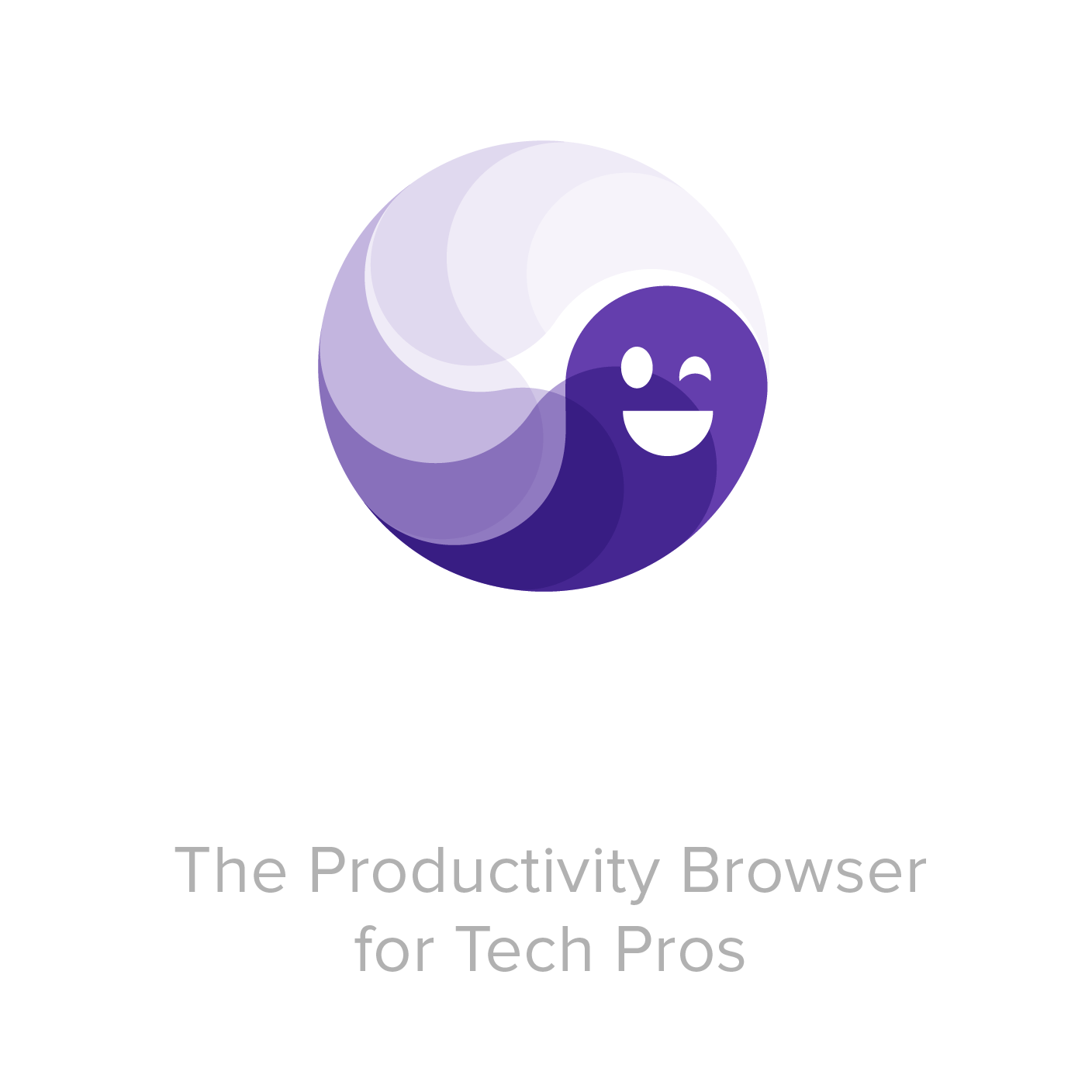 Ghost Browser Icon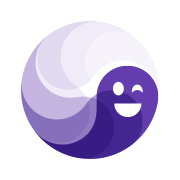 Ghost Browser Colors
Purple is our favorite color. We like to accent with turquoise and gray too.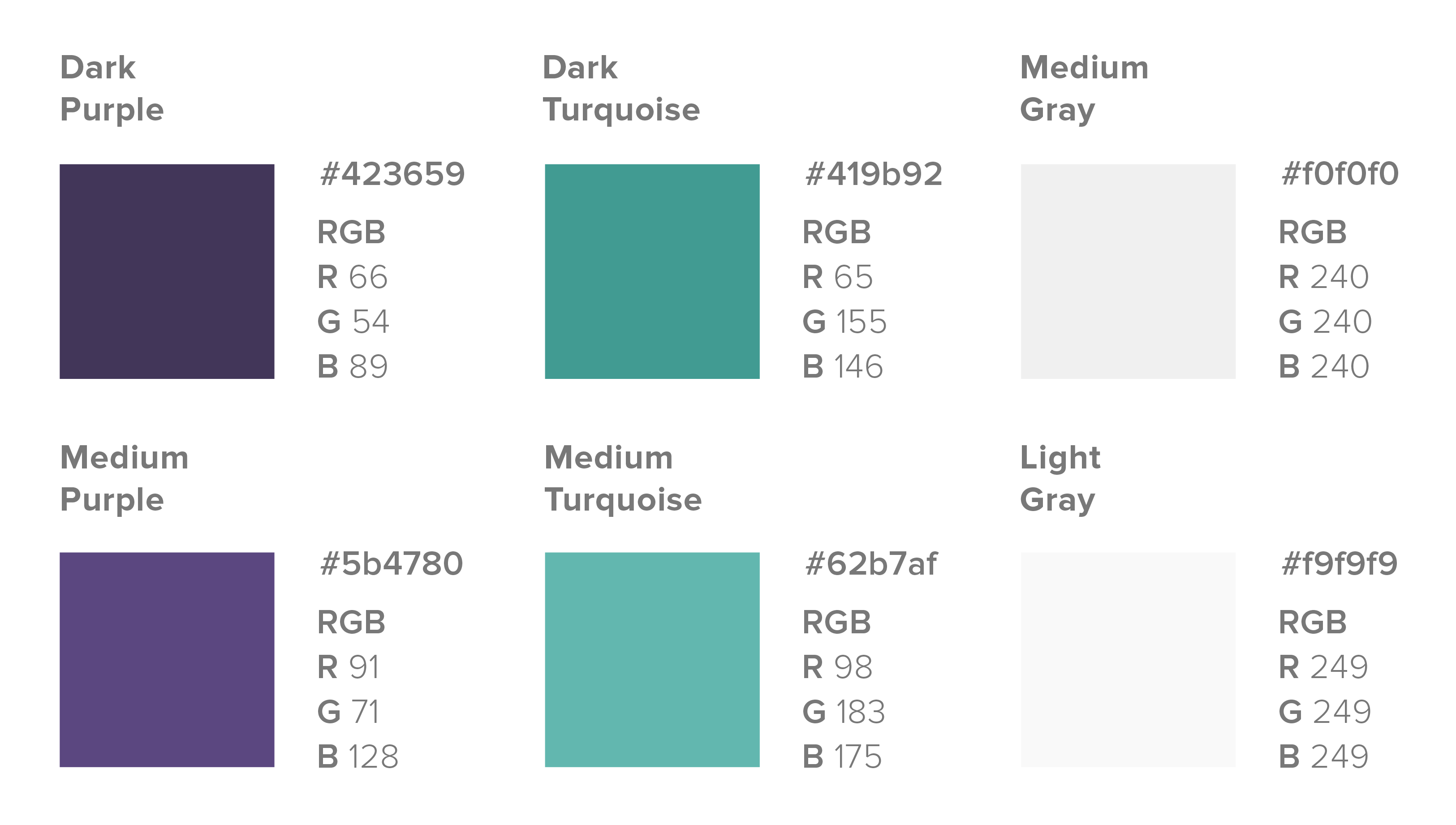 Screen Shots & GIFs – Ghost Browser in Action
Install or import your favorite Chrome bookmarks and extensions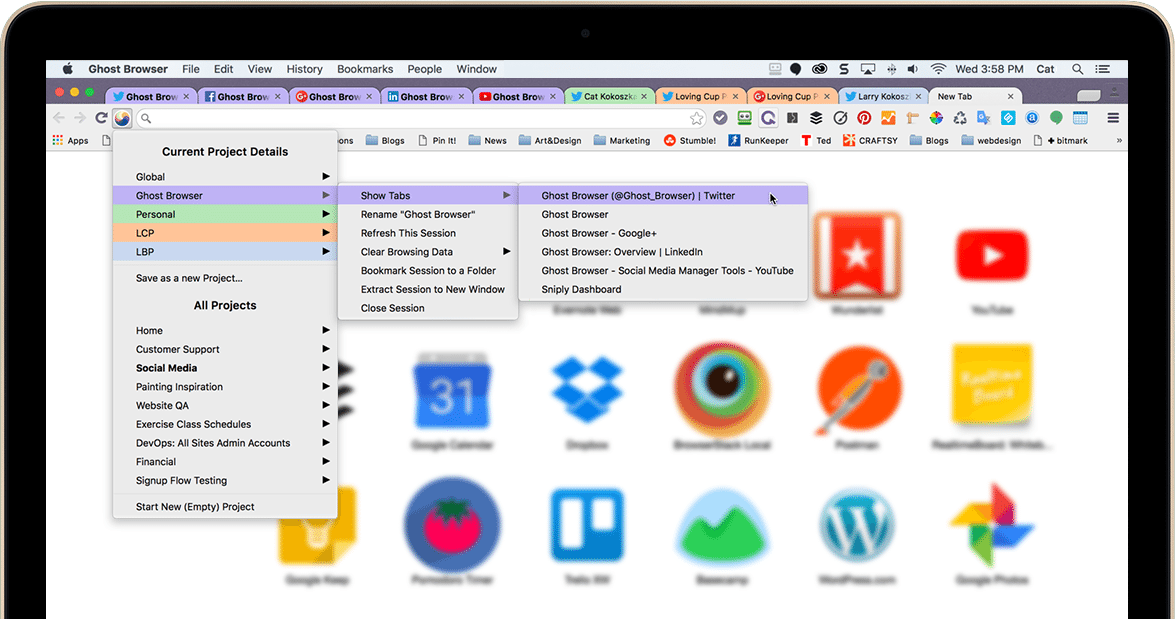 Duplicate a tab into a new Session to quickly sign in to the same website from a different account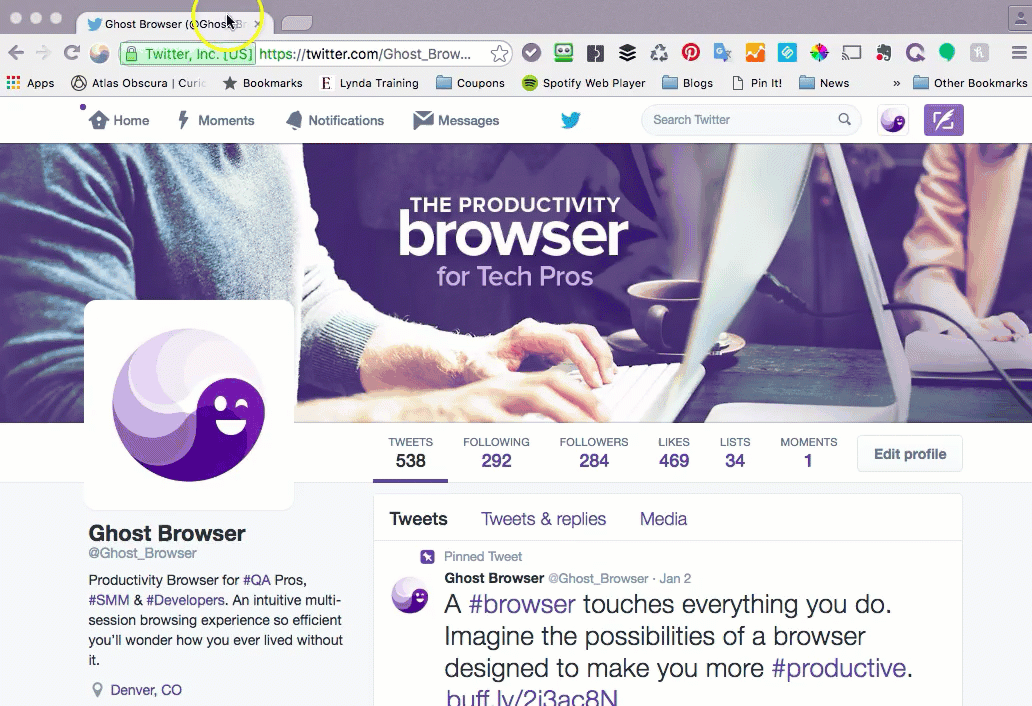 The Ghost Button acts as the command center for all of your Sessions and Projects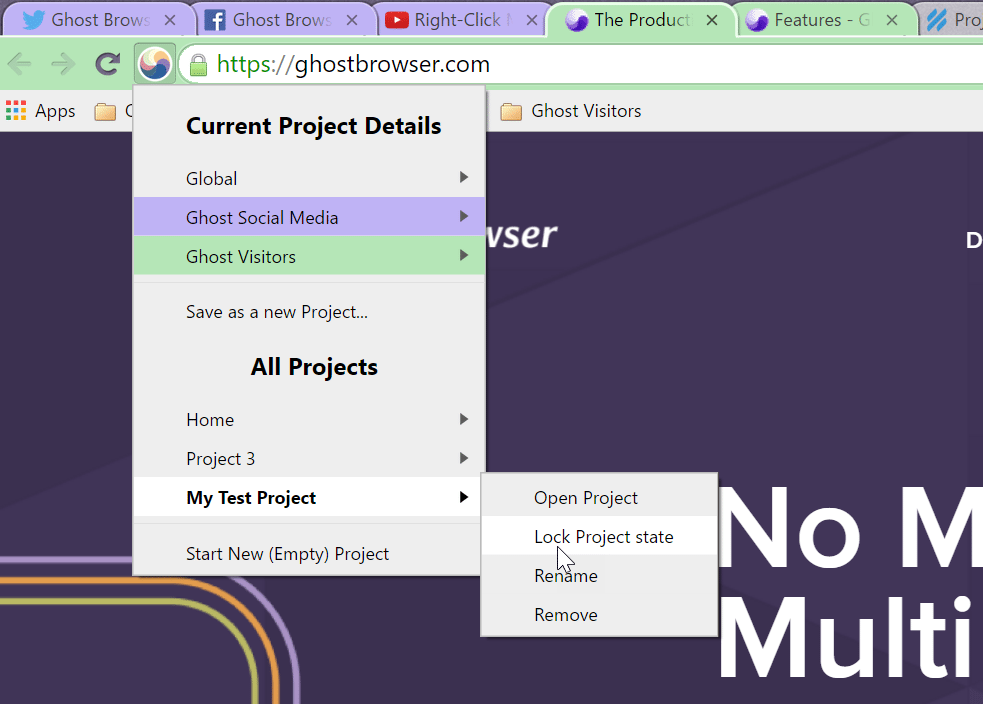 Open links into the Session of your choice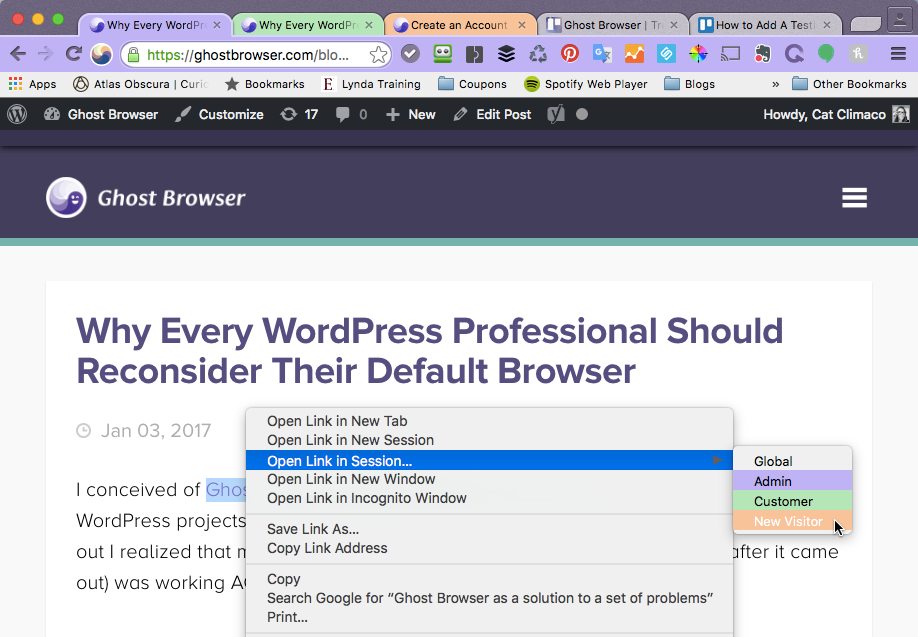 Press Coverage
See what journalists are saying about Ghost Browser.
"I've ditched the Google Chrome browser for the ghost browser. This browser is basically "google chrome" on steroids. If you are a tech professional / social media manager (or) developer, this browser is a must have for you."
"Ghost Browser is a free download for mac or pc and solves the problem of managing multiple social profiles in a most elegant and efficient way…Ghost Browser also provides a handy drop-down navigation menu so that you can easily access any open tab by starting with the Social Profiles. There is evidence to show that working in one browser this way is more efficient than moving across multiple browser windows. In my testing, I've found this to be true. I've also found it far less frustrating to work since I can assign any new link to open into the Social Profile group of my choosing. "
"Ghost Browser is a slick solution to a problem that always vexed me. Opening up new incognito windows for each session sucks, especially when you only have one monitor. Ghost Browser fixes that. 'Nuff said."
"What takes it way beyond other browsers and plugins though are the Projects… I tend to work with as many as a dozen customer projects at a time, using different site identities depending on whether the relationship is direct or through a partner, and often needing to use as many as a dozen different personas when creating demos and populating content. The ability to setup and maintain sets of browser tabs that can be called up on-demand is a massive timesaver and really helps my productivity."
"…it provides ultimate flexibility as far as cookie sharing is concerned. Since its a Chromium based browser, everything is quite similar to Google Chrome. The best part is that you can use all the Chrome extensions and apps in this."
Testimonials
See what our users have to say about Ghost Browser.