Version 1.1.0.6 Release Notes: Disable WebRTC, Better Context Menus and More
We're releasing version 1.1.0.6 today and we've added made a few notable additions that we think you'll like.
Disabling WebRTC
The first one relates to the prevention of leaks of your real IP address when using proxies. Chromium and other browsers use a technology called WebRTC that enables some really cool video chat, screensharing, voice calls and other cool applications. Unfortunately it also has the ability to reveal your real IP address, even if you are using a proxy or VPN. This IP leak can only be prevented by disabling WebRTC.
Previously in Ghost, you could disable WebRTC by opening Ghost with a special command or shortcut. If you have been doing that to this point, please note, these methods will NO LONGER work. The good news is, you can now just go to Settings–>Advanced–>Privacy and check the box to disable WebRTC.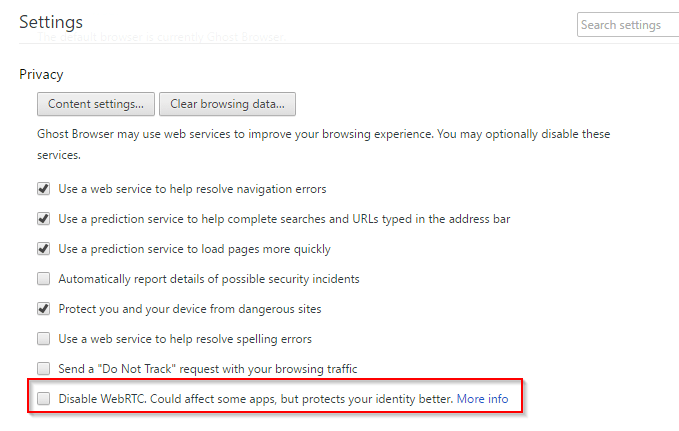 Please note that disabling WebRTC could mean that certain apps that use it will stop working. If you are experiencing trouble with any chat, voice, screensharing or video apps when WebRTC is disabled you might need to re-enable it to use that app.
Improved Context Menus
We've also made some improvements (over the course of the last two releases) to the context menus you see when you right-click on a tab or a web page in Ghost Browser. We want to point out two of them that will be most useful to you.
First, we've added a "Refresh all in this Session" option. This allows you to refresh a set of tabs in one Session without refreshing all of the other tabs. That command is here: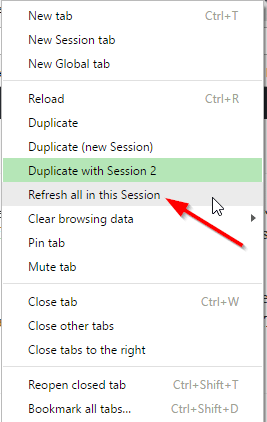 Second, we've added a command to clear your cookies and local storage from just one Session as well. This is great for those times when you need to clear cookies in some tabs, but don't want to be logged out of EVERYTHING that you are working on. This setting is under the sub-menu 'Clear Browsing Data':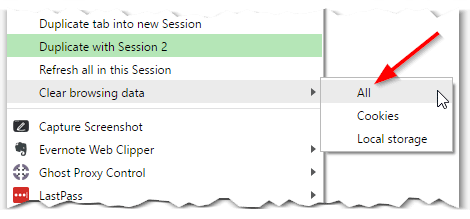 Both of these options were previously available under the Ghost Menu. They are still there, however, they are also now available with fewer clicks directly in the page and tab context menus – just a right-click away.
Pre-Installed Ghost Proxy Control for Instant Trial
We're also pre-installing the Ghost Proxy Control extension in the browser now. If you are currently on a trial it will automatically work for you with no download necessary. If you don't use it, you can right-click the extension icon to hide it. If your Ghost Browser Premium trial is over but you'd like to continue using Ghost Proxy Control, you can do so by upgrading here.
Pre-installing the extension removes some of the friction of finding the download and getting set up during the trial period. It goes nicely with the automatic trial feature we launched last month for all new browser downloads.
What's Next
Next we're working on some concepts that will allow you to use vertical tabs and gain more control over your Project and Session settings. We think tabs, as now implemented in the major browsers are simply not a good fit for people who work in the web and we want to fix that. If you do too, please leave comments or contact us with your suggestions. For those that want to use browser tabs as they currently are don't worry, you'll still be able to do so as the vertical tabs functionality will be something you can choose to enable.