Session Manager Improvements in Version 1.1.0.5
Improvements to the Session manager are the primary update in Version 1.1.0.5 of Ghost Browser.
In prior versions of Ghost Browser all of the commands for managing sessions were in the context menu of the tab. To use the Session management features, you needed to move your cursor all the way to the top of the browser. With the size of today's monitors, that's a long way to go! So now we've moved them.
Session Manager in Page Context Menu
The first place is in the page context menu. To see the commands just right click any webpage. You don't have to bring your cursor all went to the top of the browser. Anywhere on the page will do.
It looks like this: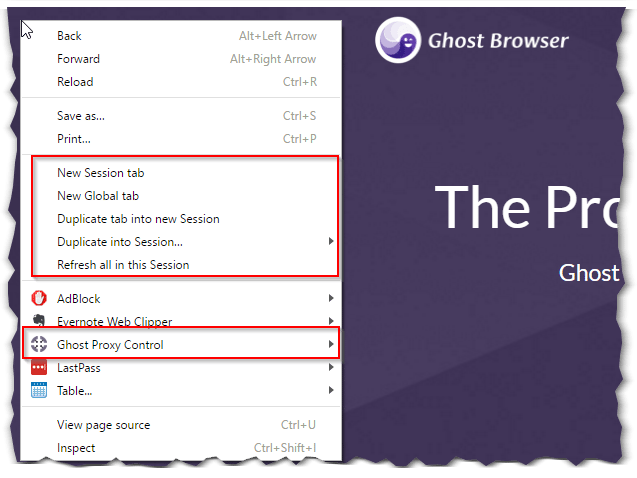 You can see we also pulled the "Refresh all" feature in to the main menu. So now you can refresh all tabs in one Session while leaving the others alone – all with one click. This is great for web developers and QA professionals!
You'll also see that we've added Ghost Proxy Control to this menu as well. This is used to change the proxy on one tab, Session or Project while using a different proxy for other tabs and Sessions.
Session Management in Link Context Menu
One of my favorite moves in a browser is right clicking a link to open it in a new tab. It allows me to quickly open many links from one single page. While it does lead to tab bloat, I'll probably never stop doing this.
So we assumed, probably correctly, might also want to do this. We also assumed that you would want access to the special Session control features when you do.
So now when you right click any link you'll see the same functions that you get when you normally right click a tab.
Main Menu Improvements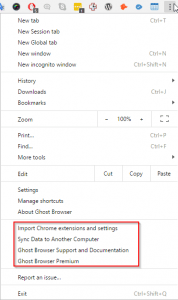 We've also made some improvements to the main browser menu. In addition to adding basic session management links to the main menu, we've also pulled out some hidden tools from the depths of the browser and put them in the main menu.
As you can see in the image there is now an option to import a chrome extensions sync your data to another computer and view our support and premium license pages all with one click.
We hope this will help make your use of Ghost Browser even more productive than it was before.