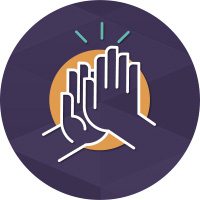 This past November I was at Web Summit in Lisbon learning some valuable lessons about privacy and running an exhibition booth for Ghost Browser. One very excited gentleman came up to us and said roughly "dude, do you realize how much money you can make selling everyone's browsing data?!"
I sighed, thought about where we had gone wrong in our booth messaging, then said, "Hi, I'm Larry. And thanks but that's not what we are about. Ghost Browser is a productivity tool".
He persisted until I said ok, we'll consider it. I felt bad for lying to him like that. It's it not like I was totally lying though. I mean, we had already considered it….for about six seconds.
We knew though, that if we started worrying about packaging your private stuff and sharing it, or selling ads, that we, like other browsers, would get distracted from our primary goal – letting you do awesome work so you could get away from your desk faster and do the things that really matter in life.
So we're not selling – or even collecting your data. We're not selling ads. We're not doing search deals.
But we have to monetize the browser somehow so we can continue to develop (and of course recoup our investment over the year 1 + years we've been working on it). And that's why we went freemium recently. Users can now use the browser as much as they want (with no login) or choose a premium version that will expand productivity even more.
We know the concept of paying for a browser sounds weird. (And you don't have to – you can always use the free version). But here's why we think it makes sense.
People pay for Productivity tools all the time. From customer service to project management to screencasting…if something provides value, smart companies are willing to pay for it.
People pay for browser extensions, why not a browser that builds in features that other browsers can't or won't provide?
The browser probably touches more tasks that you in a day than anything else you use. You should be using the very best tool you can.
For what we're planning to charge, it will take you less than an hour of productivity gains for the browser to pay for itself, no matter what your hourly rate is.
Now we know some people are still going to have hesitation. So we've done three things that we think are really important.
We're keeping the price point VERY affordable.
We're giving beta users a REALLY good deal on the premium version.
So, we know it's a bit weird. But we also want to be able to afford to continue to build something that doesn't exist yet – a browser that works with you and works for you. We hope that's enough to get over the initial awkwardness of paying for a browser.
If you have any questions or comments, please direct them to support@ghostbrowser.com. We'll see them and respond.